Are you living the dream that if you purchase the right treadmill you will stay motivated and get regular hassle free workouts in? In reality this is only possible with the right treadmill. This review looks at whether the NordicTrack T 8.5 is that right choice.
For fitness enthusiasts who want to run 3 times or more per week a serious treadmill is the only option. Low cost models destroy your kneecaps, ankles and hips. They don't have A grade shock absorption cushioning like the trademarked FlexSelect that is available across NordicTrack's T series range.
They also don't have smooth automated ramps, and one touch responsive speed controls like this. Perfect for incline training and for stretching your limits. If you are short on time you can burn out a lot quicker with high tempo incline workouts.
Take it to the next level with your personal NordicTrack iFit coach who can guide you through visual routes of any place on the Globe. Your treadmill will match the speed and gradient of the terrain. All you have to do is keep up.
Thankfully the auto breeze fan is strong enough to keep you cool.
It will be hard to get bored of the 16000+ workout library from iFit. You receive a 12 months subscription with your purchase, this will save you $396. You can cancel after the first year and use any of the 50 built in workout programs.
The workouts will play in HD and beam nicely out of the dual digitally amplified speakers. Instead of standard boring stats are displayed in graph and linear format which list your average speed, elevation progress, heartbeat, speed and resistance.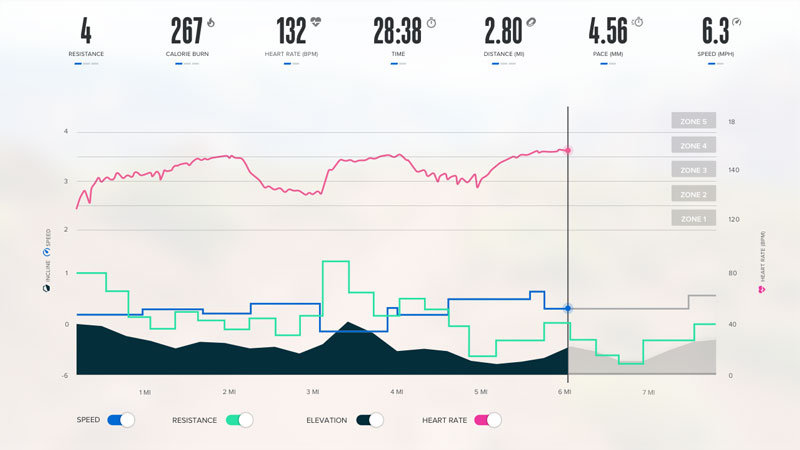 The T 8.5 is the third highest spec treadmill in this range, with only the T 9.5 (review here) having higher specifications, namely with a slightly stronger motor, a 4 inch bigger monitor and a $400 MSRP higher premium.
The cushioning and the running deck is the same. The deck measures 20 x 60 inches. You have almost 2 feet of width to get comfortable in which is the average width of tread decks. You have 5 ft before you fall off the back, which hopefully you won't.
You have the safety key to shut down the treadmill should this unlikely event occur.
The machine also folds vertically which reduces it's footprint by half. Overall when standing it measures 78.5 in (l) x 35.5 in W() x 59 in (H).
NordicTrack T Series Range

NordicTrack have a strong record in the health and fitness industry and you have probably seen their gorgeous range of ellipticals alongside their treadmills in many commercial gyms.
Comparing The T 8.5 S To The Cheaper T 7.5 S
You can pay upwards of $2500 for treadmills in the commercial end of the sector. So the T 8.5 S packs quite a punch for the cost. Although does it justify the $400 MSRP premium over it's little brother the T 7.5 S (reviewed here) ???
The difference again lies in an upgraded motor. It clocks up from 3.0 CHP to 3.5 CHP. A 16% increase. The only difference is the motor goes from a standard SMART Response technology (at the lower end of the T range) to the commercially rated CHP DurX™ engine.
This is the same motor that is used in NordicTrack's highest spec treadmill range – the commercial series. Apart from the base model these treadmills go over the $2k mark. With the 2950 having a mind boggling 22 inch touchscreen.
The T 8.5 S also boosts the touchscreen by another 3 inches to 10. A much bigger touchscreen means more comfortable viewing when watching an iFit module.
It has the same top speed of 12 mph. The average fast paced marathon runner hits 10 mph so this has a nice 2 mph cushion above this so you can work on sprint training. Elite level marathon runners will probably find the pace a bit slow and will be more suited to something that goes 15 mph like the 3 G Cardio Elite (reviewed here).
15 mph on a treadmill is absolutely flying. This treadmill is not designed for such feats, but rather for someone in the home market that wants a solid, reliable, exciting treadmill, that has enough power to keep on going at high speeds.
The motor is extremely strong and capable of powering you for endless miles at 12 mph. Things do get a little shaky when you are at the top of the 12% incline setting. For that a heavier non folding treadmill like the 3 G mentioned above or something from the commercial series is required.
This treadmill is made for individuals up to 300 lbs in weight. The manufacturers deem that heavier users would not be considered safe to use it for running.
Verdict – Should You Take It Home or Leave It On The Shop Floor?
Fast paced elite level runners will need to move up in the price range to commercial level treadmills. Something with prograde beefed up 4 ply running decks, 15 mph speeds and 15 % incline ramps – replete with decline functionality.
The T series features a really strong home runner treadmill range that can keep up with the demands of fitness enthusiasts who love the treadmill and want the cushioning, console, and controls to be fast acting, durable and exciting.
The T 8.5 S ticks all those boxes but it's success also contributes to it's failure.
Given that this treadmill has the same warranty as it's cheaper younger brother (2 years parts and 1 year labor) the main selling point is the bigger touchscreen. You will not noticeably notice the power difference. In this respect unless you think bigger is more beautiful, the T 7.5 S is a much better option.