The Assault Airbike Classic uses the same impressive technology bolstered on the Concept2 Model D rower. Just like that The Assault is a beast of a similar nature, harnessed by professional grade refined engineering. Powered by air resistance, the workouts are as tough as you want them to be. It depends on how hard you can push.
The difference is not as subtle though when compared with other air bikes. This one is designed to torture you.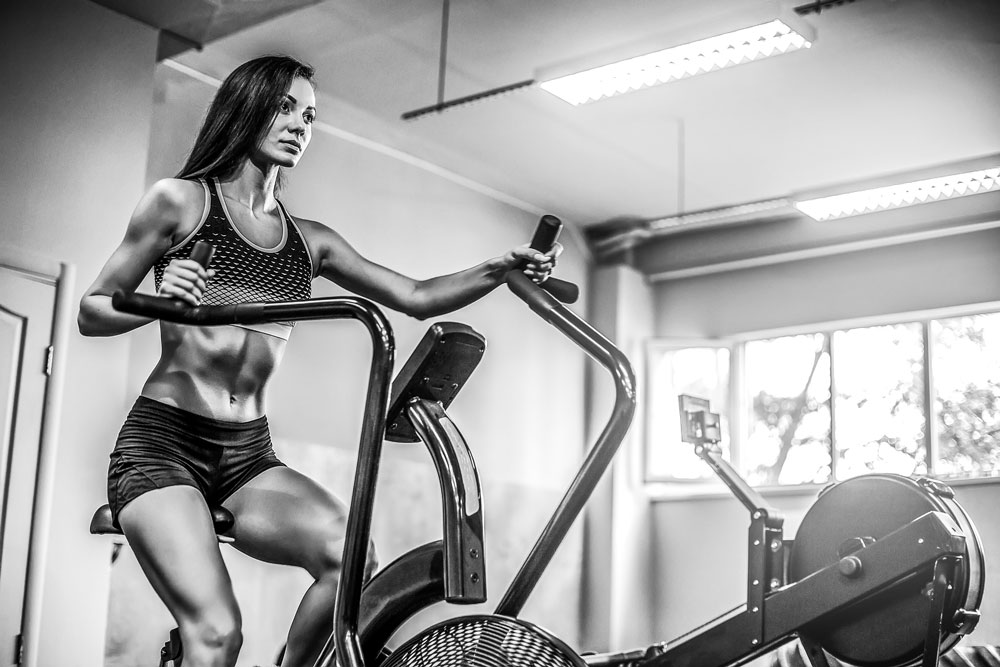 This precision machined steel bike is called Assault for a reason. It batters your senses visually with its sleek minimal robust design, and it hammers your fitness levels by proving a simple uncompromising workout.
Assault bike workouts are not for the faint-hearted….
Here's a complete look at what it can do to you.
Assemble In 10 Minutes?
All you need to put the bike together is the supplied hex wrench and screwdriver. Assembly can be done in much less than the advised 2 hours. There is a video shot in Amazon in real time which shows it being done in well under 10 minutes.
If you can switch out batteries you are overqualified. The more speedy of you will assemble this bike probably in under 30 minutes.
There are quite a number of steps to take, but with a little patience, and another set of hands the task will be much easier.
Designed To Impress
This bike trumps its inferior cheaper non-existent rivals in every department. With a 350 pound weight limit- which we think is lies, this thing is so solid it could support an elephant.
Nothing feels out of place, from the 25″ front wheel to the parallel handlebars.
Elite Athletes Who Use Assault Bikes
You will have seen these bikes in CrossFit gyms or on NFL or UFC training features, usually with someone sweating profusely and making angry sounds as they fight the metallic beast. It is also used by the military. This bike will supercharge fitness and endurance levels depending on how it's used.
Professional athletes use it to advance their conditioning levels into new territory. Boxers and UFC fighters who perform at the extreme end of the cardiovascular spectrum looking to get a competitive edge will clock up many miles on them.
If you need to get shredded fast calories can be burned at an alarming rate.
It's A Surefire HIIT
This bike is for pushing yourself to the limits with high intensity interval training. The premise of any good stationary bike powered by the user via air resistance, is you can never top out at the highest resistance level, as resistance follows the amount of force you are producing.
You are the horsepower, so it runs out whenever you do.
That is why Rogue assault bikes triumph at interval training, you can ramp up the power when you are ready to go without fiddling with knobs or gears. Then you can drop down almost instantly when you need a breather.
Assault Fitness – Southern California Company under the umbrella of parent company Lifecore Fitness, manufacture this bike, they claim you can have a workout that doesn't have any limits. They are effectively right, with the only limit being your fitness levels and mental toughness.
Heavy Duty Build Takes Spin Bike Blueprint To Higher Level
There have been some exceptional air bikes over the years, no more so than the Schwinn Airdyne range. Also as the names suggests based on air resistance (unlimited resistance).
Schwinn have been making bikes for over 100 years, and their heritage and quality standards are practically unrivalled. Assault have taken the premise of Schwinn air bikes and removed most of the problems in their design structure.
Instead of using cotter pins which became a major issue on Schwinns AD4 (Airdyne 4) due to constant breaking, they manufactured a direct drive system with 22 sealed cartridge ball bearings (hidden subtly out of sight).
These bearings were used instead of the brash bushings which had a wobbling effect on the Schwinn. Assault Fitness used the same approach as Dyson, they certainly did not invent the air bike, they improved upon its structure.
Fan Bikes Fans
Endurance athletes and CrossFit devotees, anyone who needs complete all body fitness for professional sport, are regular users of assault bikes. Air bikes are low impact, if you have rolled your ankle or hurt your back, you can get the blood pumping round your body, which can speed up the rehabilitation process.
You won't be leaning on all your weight like a treadmill or elliptical, so you can get in some cardio and work around injuries.
Assault Air Bike Elite
For those mere mortals who live in the higher echelons of fitness there is a higher spec bike know as The Elite. The weight capacity goes up 50 pounds to 350. Not that you'd have a problem downsizing a large frame with a couple of weekly sessions on this.
The LCD monitor gets an upgrade and it adds some workout distractions like LCDS (ironically the classic was set up to avoid such frivolous toys).
The parts warranty is upgraded from 2 to 3 years and you won't have to purchase a windshield as it is integrated.
Reasons To Use HIIT Even If You Aren't Into It
If you are into rowing, cycling, trail running, bodybuilding or any other type of fitness, HIIT have proven to be one of the most effective exercises for building muscle, burning fat and increasing your cardiovascular fitness. See some research we looked into here.
HIIT on an air bike is unique as it works the upper body with the handlebars and the lower body naturally. The Assault really works your metabolic conditioning.
If you just can't raise your fitness levels with your normal routine, if you feel flat, or have peaked, slam those plateaus by incorporating some brisk yet intense HIIT sessions.
As the air bike focuses on strength and cardio you will not lose muscle mass by keeping sessions brief, as long as you don't drop off calories in a dramatic fashion.
HIIT doesn't need to be long, the research study linked in the above paragraph shows that 2 minutes per week is enough to elevate your fitness. Try this on an assault bike and you'll notice the difference.
HIGH VOLUME – LOW SETS
30 seconds full speed pedalling
30 seconds rest between sets – feel the burn after this!
Voices From The People
Here are some of the views taken straight from the mouths of it's owners.
This bike is beefy, tough and challenging. Pro-Grade – not for light use.
It's good for athletic individuals but not so much for anyone rehabbing from knee or heart surgery.
The console readings are too small.
The Assault keeps no record of past workouts so you won't know how many miles you have clocked up that week or overall in general.
Perfect for HIIT – extreme calorie burner – similar to spin bikes supercharges fitness* -Source: bikes reviewed
Better seat than older Airdynes as adjusts to height and length
Not for the gentle -the Assault is NOT built for enjoyment, its purpose is to punish you. Where more is required, this is what you need. For enjoyment get a Schwinn Airdyne 6 at the same price or a more recent Airdyne version.
Reasons To Avoid
Original seat can get as uncomfortable as a brick on longer sessions, almost like it was hewn from precision steel. If you are going to cover some serious miles on this you will need a cosier seat.
It is not as quiet as the Airdyne Pro. The air also hits you in the face, you can buy a wind shield cover but you might take it off as the airflow will be appreciated during intense sessions.
Just on quietness- with any fan powered bike, there is going to be a lot of noise. If you share a home with friends who appreciate quietness, or want to exercise at some unseemly hour, or have difficulties with your neighbours – this bike and even the quieter Airdyne Pro will burn a lot of bridges. All fan powered bikes are noisy.
If you like standing up on the pedals you won't be able to as the arms will get in your way. This is an important reminder that this is not a spin bike, an ordinary stationary bike, nor is it the equivalent to a road bike. It has handles to engage your upper body. If you are a biking purist move on.
If you like a lot of 4K console games and online connectivity there are none. This is not a machine to relax on.
Maintenance- just like a regular road bike you need to take care of the chain, you have to lube it and place it back on the sprockets, if it comes off and potentially tighten it now and again. Compare to Rogue Echo bike and the Schwinn Airdyne Pro which use a maintenance free belt drive system.
The Schwinn Airdyne Pro is less nosier than the Assault (due to belt drive), but the price is higher.
Why Would You Get One?
It's simple to work, and just provides simple console information (watts/time/calories/MPH) as not to distract you. Honestly if you are using this as you should for interval training you won't have any time for Goggle map interactive mountain trails as you'll be concentrating on keeping breathing.
There is no place to hide on the Assault. You straddle up, hop on and the brutality begins. You won't walk away the same person, unless you hop on and hop off. Once you put down the power it demands more. Based on your fitness levels and how far you want to push into the red zone the workout is uncompromising.
Used in CrossFit Games and CrossFit Open- if you compete, having your own at home will give you the edge.
Can just use the arms and rest on the foot pegs on the front wheel when you need a break or want to focus on your upper body.
Very responsive. Once you are ready to go pull the trigger and the wheel takes off. You won't have to gradually build your speed.
Unlimited Resistance – you only top out when you top out.
This commercial grade torture device is bomb proof. Fan-boys and gals are a plenty, but disclaimer alert if you are a lazy gym goer- Not for the faint hearted. Get one if you dare.