One of the design problems with adjustables dumbbells is that they just don't look like regular dumbbells. That is until you see an Ironmaster adjustable dumbbell. It looks just like the regular thing.
Choosing a dumbbell set comes down to price, ease of use and effectiveness. If you've ever used a dumbbell before using Ironmasters are exactly the same. They are cheaper than a comparable set of individual dumbbells, and with this stand they are more competitive than Powerblocks or Bowflex dumbbells.
Are they effective? They certainly are. They are precisely balanced, the handle is not restricted by a base unit or module, and out of all the leading adjustable dumbbells they have the most natural feel as they have the most natural shape and components.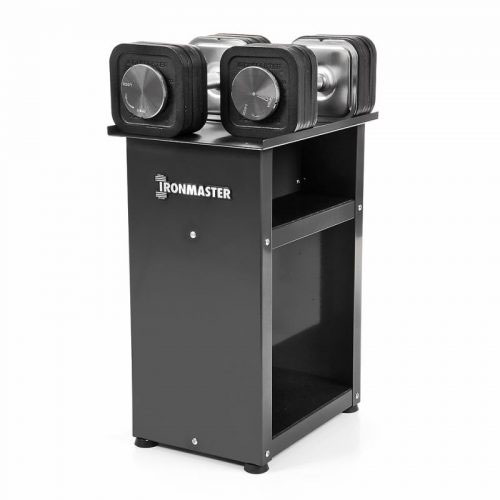 Although people love their Bowflex and PowerBlock dumbbells, they do not look so much like regular dumbbells. The PowerBlock name is based on their blocky appearance. Bowflex are longer and bulkier than standard dumbbells.
Strong Iron For The Iron Game
Ironmaster as their name suggests take the industrial stance with their design. Cold, hard, iron and steel matches the hardcore aesthetic of a real working gym, where plates of metal clash and bang as they are wielded as a no compromise muscle building tool.
Due to the simple, solid nature of this all steel and iron dumbbell, it takes a bit more brute force to twist their patented quick locking caps on and off. They don't change as fast as Bowflex or Powerblocks, but they have less moving parts than the Bowflex 552's for instance as they have no moving parts (bearings, springs), so there is less chance of a system malfunction.
PowerBlocks can break and the rods can bend if they fall on a hard surface. Ironmasters are a bit more sturdy. Good old fashioned simple steel & construction with no fiddly easy to break plastic parts. These will stand the test of time.
Even though they are mostly steel it's not recommended to drop them on hard floors it has to be said, the locking screws won't be as tough or as thick as the handle. In the event they are guaranteed for life and Ironmaster are really good at honouring breakages.
Economy & Versatility
One of the main reasons for owning any adjustable dumbbell is the size economy. A set like this can replace a whole wall of dumbbells.
Ironmaster sell a 5-100 lb dumbbell rack for $2365 currently and this consists of 30 separated dumbbells.You can get the same with a stand for less than $1k, so you can see the value, especially if you are short on space, and cash.
What's Included In the Kit?
Two dumbells, 4 locking screws, stand and weight plates. Handles weigh 5 pound and the screw on quick-lock weigh 2.5 pound each. The handle and locks add 10 pounds to the dumbbell before and weights are added. 65 pounds of weight plates can be added to each dumbbell.
Dumbbell Plates are as follows:
5 pound plates x 24
2.5 pound plates x 4
The stand has stacking shelves to hold the plates.
How Long Does It Take To Change The Weights?
Changing the weights takes on average 15-30 seconds and you will have to use both hands. Ironmaster claim you can do it in less than 15. It works much better if you have the stand, as you can set them within easy reach and get the changeover done faster.
What Size Are The Dumbbells?
Depending on how much weight is on the dumbbell the overall dimensions run from 9 inch (L) x 6.7 inch (W) with 20 pounds on the dumbbell to 14.5 inch (L) to are just 6.7 inch (W) with 75 pounds on the dumbbell.
The handle grip diameter measures 1.25 inches and there is plenty of room for adding on fat gripz as the handle length is 6.5 inches. Fat gripz are easy to put on and off as there is no cradle or base unit getting in the way such as other manufactures use.
What Size Is The Stand?
The accompanying supports up to 120 pounds, which means it can hold the extra add on kit. The stand itself is 14.5 inches (W) x 26 inches (H). It includes rubber leveling feet.
Can The Dumbbells Grow As You Do?
There are 2 options to increase the weight from 75 pounds.
Upgrade to 120 pounds
Upgrade to 165 pounds
The 165 pound upgrade is only available as a special order from Ironmaster. Seems no one want to carry such heavy stock!
Pros
Look hardcore, if you like the feel of real iron handles these are a treat.
Cheaper with stand than equivalent Powerblock dumbbell stack
Feels just like real dumbbells
Guaranteed for life
Weight plates have pound and kg rating
Can increase in 2.5 pound increments
Don't need to be as precious with these like you do with Bowflex or PowerBlocks, can let them drop on rubber mats if you are maxed during lifts
Lock tightly in place 99% of time
Advertised as the worlds strongest adjustable dumbbell for a reason- totally hardcore
Expandable up to 120 and 165 pounds
Cons
Unless you have a strong grip changing the weights can take a bit of strength
quick lock screw won't tighten properly if threads are misaligned
This set only goes up to 75 pounds- have to pay $300 extra to upgrade to 120 pound set.
If you are doing circuits or dropsets they won't be as quick to change as Bowflex or Powerblocks.
Need to use both hands to change them.
Have to lift off eights and store them in stand
What Are Customers Saying ABout Them?
Just looking at the sheer number of online reviews from customers that are mainly positive shows you the faith customers have in the Ironmasters. Many own both these and Bowflex, PowerBlock and Vivafit dumbbells. What keeps coming up is that owners of multiple brands of adjustable dumbbells say Ironmasters have the most natural feel.
You don't have to be so gentle with these as they don't have complicated locking system or plastic parts. During a tough set you don't need to worry that if you drop them they will break.
The knurled handle also has a nice old school grip feeling in your hand. Can rest the flat edges of the weights on your knees or a bench before kicking into your set.
Why Choose Ironmaster Over Bowflex or PowerBlocks?
If you like the feel of real iron and are in it for the long game, these will flat out last the longests. PowerBlocks are now changing their warranties across the board to 5 years. Ironmaster have a lifetime warranty. If you drop these from a height they will obviously survive, they are built like tanks.
Solid construction, nothing to worry about in this department. The clincher is they feel as close to a real dumbbell as an adjustable dumbbell can get, and the lock in pin is baic refined engineering in it's purest, which means nothing can easily break. Less moving parts equals less to break down.
The price is very competitive given that the stand is included. One thing you have to consider is if 75 pounds per dumbbell is enough, or whether you think you will outgrow it. The expansion kit which brings the weight capacity to 120 pounds per dumbbell is another $300.
Check out Youtube to see how many people have bowflex dumbbells that won't work anymore as springs or bearings have went. The same is true for PowerBlocks with bent rods. Bowflex home gyms don't seem to have as many issues.
Ironmaster do take longer to change, but 15-20 seconds will do fine for most people. If you are trying to build a home gym and need an expansive dumbbell set without carrying 20 plus dumbbells and a rack these are ideal.