Chances are if you're looking for more information on the Weslo Cadence G 5.9, then you're in the market for a decent motorized entry level treadmill at a more reasonable cost than some of the top end models.
There is a newer version of this treadmill -the original G 5.9 has been updated to the G 5.9i. That's right it's gone interactive. The same treadmill only revamped. See it here.
Thousands of Owners have a lot of positive things to say about it here.
If that's you then you're in good company as models in the lower price ranges are incredibly popular these days. You do need to be careful though as this end of the treadmill market is flooded with cheap imports and low-quality machines. We'll be delving into the details of this machine and also providing a summary from the vast amount of owner reviews.
Weslo is actually owned by Icon Fitness and is branded as providing real value products mostly, with a range including treadmills, exercise bikes and elliptical trainers.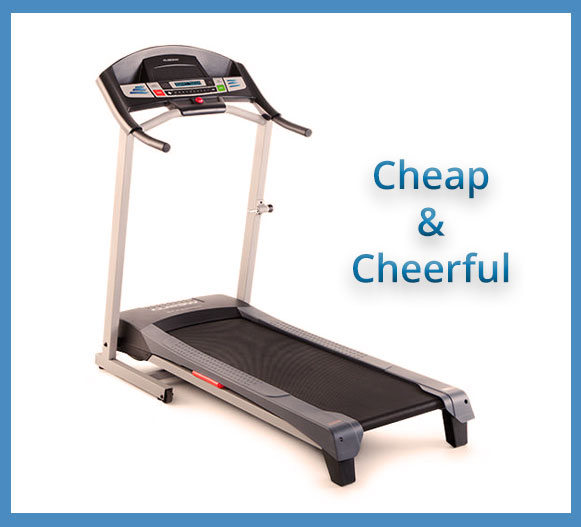 Weslo has two notable models in their Cadence G 5.9 range, the original G 5.9, and the updated Weslo Cadence G 5.9i treadmill, which as it name suggests gets a little more interactive.
It allows you to link a tablet or smartphone up to iFit (links to Google maps and allows you to take interactive fitness workouts, log your workout stats). Weslo also make another fairly popular budget treadmill called the ~R 5.2 and the very expensive G 7.0 (around $2000).
In appearance, they look very similar but the Weslo G 7.0 has a lot more bells and whistles. We're going to concentrate on the lower end G 5.9 which promises to provide a good cardio workout at a low price.
Be warned this is a thorough in-depth review, so if you want to see the main benefits of this treadmill skip to the end section, or choose a section from the content menu here.
First impressions of the Cadence G 5.9
If you're used to the commercial grade treadmills at your local gym, then the first impression you might have about the Cadence G 5.9 is that it's a lot smaller and narrower.
You would be correct of course, but do you have the room to fit one of those beasts in your house or apartment? The narrower and shorter running track will not cause many problems for average sized people and the neat fold up design make this a great treadmill if you're short on space.
There's quite a bit of plastic used in the construction of the Weslo, and while it won't win any awards looks wise, the design is clean and minimal. It weighs less than more high tech treadmills, at around 110 pounds, but this little fella can handle users up to 275lbs.
This is a bare bones treadmill- the basic design is simply two handles, a console, running deck and 2.5 CHP motor. There is a space above the console to rest a tablet or a book as well. The small motor is capable though of going up to 10mph. Good enough for light running and moderate use.
The overriding feeling of the thousands of online reviews is one of a basic, no frills motorized treadmill at a low to medium price that many are happy with. Sure, there are minor issues which we'll cover later, but it's easy to see why this is a bestseller.
Is this a manual or electric treadmill?
The Weslo Cadence is an electric motorized treadmill and has a 2.25hp Impulse power motor specially designed for continuous use. The motor has a manufacturers label that states it is rated at 2.75hp for treadmill duty and 2.0hp for continuous use.
The treadmill duty rating is average for a budget machine which should have enough power to cope with the demands of owners who aren't going to want to run on it 3 hours a day 7 days a week.
It comes with a 0-10 MPH Quickspeed control system which works very well in smoothly adjusting the speed of the belt. It also brings it to a swift but gentle stop at the end of your workout.
The treadmill plugs into a standard 120-volt power outlet but the manufacturer recommends you use a surge suppressor to protect the machine. You can find more details in the user manual. The circuit that you connect this to must be capable of carrying at least 15 Amps.
Weslo recommends that nothing else is plugged into the circuit when using the treadmill to avoid any potential overloading problems. The cord length is 6 feet so take that into account when deciding where your treadmill is going to go. Or else run an extension lead.
How big and heavy is the Cadence treadmill?
The shipping weight of the G 5.9 is 119 lbs so you may need someone on hand to help you carry it to the room you want to use it in. Once unpacked the weight of the treadmill is approx 117 lbs which is at the lighter end of rival treadmill weights as some can weigh as much as 250-300 lbs.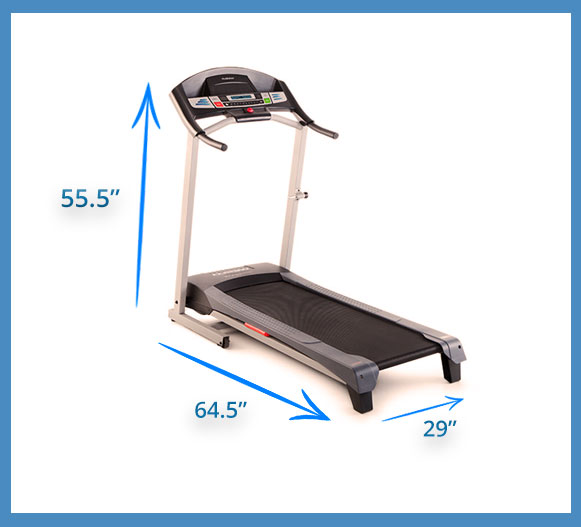 Size wise the Cadence measures 64.5 inches long, 29 inches wide and 55.5 inches high. The usual recommendation is to allow plenty of space around the machine to avoid accidents and this one is no different. The guidelines in the user manual are that you leave at least 8 feet behind the treadmill and 2 feet either side.
What size is the tread belt (running deck) ?
As we already mentioned, the tread belt seems on the narrow side at first, measuring 16 inches wide and 50 inches long.
For similarly priced treadmills, this is actually one of the larger running areas provided and although several reviewers mention they were worried about the width at first, there are very few that find it a problem.
This does depend to some extent on your stride length and how you run of course but in general, the treadmill seems to work well for people under 6 feet tall. There are plenty of owner reviews from people (mostly men) over 6 feet who have used it without issue, but you may want to check your stride pattern just to be sure.
What is the maximum user weight the treadmill can handle?
The official weight capacity of this unit is 275lbs and it's a good idea not to exceed this if you want the treadmill to last. If you are approaching 300 lbs the machine won't break, max weight loads always verge on the lower side.
Most types of motorized fitness equipment such as treadmills and elliptical trainers have a maximum weight capacity that the machine has been designed to work with. If you are heavier than this then the moving parts such as motors, belts and gears may get overloaded and deteriorate much quicker than normal.
We recommend you always look for a piece of equipment that has a maximum weight rating of around 10% more than your weight, if you want it to last.
How fast can you run on a Weslo treadmill?
The speed settings on the Weslo Cadence G 5.9 allow you to set speeds from 1 mph up to 10 mph in increments of 0.1 mph using the speed increase/decrease buttons.
That means you can easily set this treadmill up for a walking pace (usually around 1.5 to 2.5 mph) all the way up to a quite a fast run. You can also program the speed via the numbered buttons on the console.
Note that when the unit is first turned on it always will start at a speed of 1 mph. The console can also be set to display kilometres instead of miles.
What sort of console does the Cadence G 5.9 have?
The console has a simple and easy to use interface.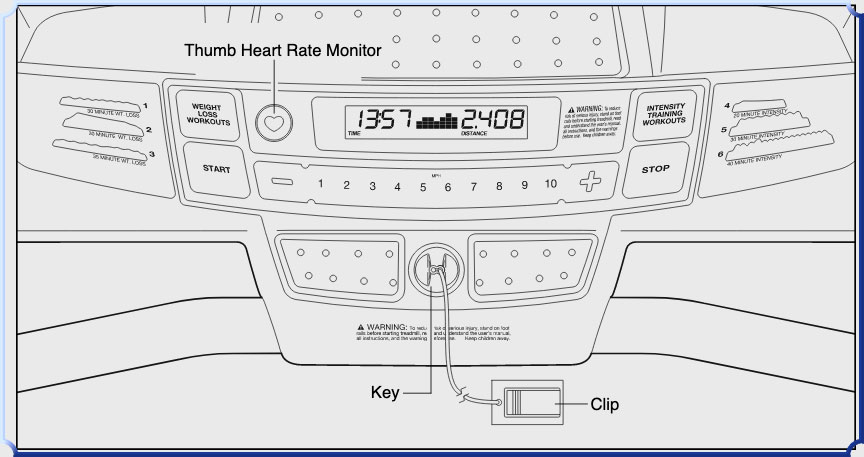 Right in the middle you will find a blue-tinted LCD priority display that tracks your speed, distance, heart rate, elapsed time/time remaining and calories burned for your current workout. There is also a segment in the middle that displays progress around a 400m track in manual mode, or the speed profile settings of the workout preset you selected.
Unfortunately, the LCD display is not backlit which can make it difficult to read in dim lighting and is one of the main complaints purchasers have. Until Weslo upgrades this you may want to think about buying a clip-on battery powered LED light if the lighting is not that great where and when you intend to use it.
To the left of the display, you have a thumb sensor to read your heart rate and on the far left a button to select the 'Weight Loss Workouts' set of preset workouts.
Underneath that is the Start button and as we move right there is the decrease speed button. Continuing underneath the display are numbered buttons from 1 to 10 which set the speed of the belt when in manual mode.
Continuing to the right you will find the speed increase button and then on the far right bottom corner, the Stop button.
Above this is the button to select the preset 'Intensity Training Workouts'. At each end of the console area, there are information panels showing a speed profile of the six preset workouts that are available.
Above the display is a book or tablet rest that works really well and a spacious holder each side for a water bottle, speakers, that sort of thing.
Underneath the central control part of the console is the holder for a magnetic disc shaped safety key that has to be inserted for the Weslo Cadence treadmill to power on. More about that in the safety section below.
What are the preset workouts? Can you add your own?
As you saw above, there are six preset workouts programmed into the G 5.9, but unfortunately, there is no way to program your own.
The six workouts are divided into three that are targeted at weight loss and three designed at intensity training. There is no electronic incline control on this model so the workouts are based around using different combinations of speeds over successive one-minute segments to achieve a good workout. These have all been designed by a Certified Personal Trainer to get the best results and not many owners have quibbles with them.
Whilst running through a workout, you can use the speed selection buttons to decrease or increase the speed in the segment you are on if you need to. The system then goes back to the preset speed at the start of the next segment. Many people find this a handy feature, especially when just starting out getting fit.
To get into the preset workouts it's simply a matter of pressing the desired type of workout button repeatedly and cycling through until the workout you want appears in the display.
Is there an incline control on the Weslo G5.9?
There are no incline settings controlled from the panel, but you can change it between two settings manually.
This is done by rotating the feet at the back of the treadmill to raise or lower that end of the machine. In one position the tread belt is level, in the other, it creates around a 8-10-degree incline. Not much but enough to notice.
Note that electronic incline controls are only available on treadmills costing much more than this model, so it's not an omission, but a product of price.
Is there a heart rate monitor on the Cadence?
There is a fairly basic thumb sensor which is not as good as having sensors in the handles, or Bluetooth connected chest pads. You really have to push down on it to get a good reading which is awkward during a run.
If you have an iPhone clever devices like the Tinke offer an alternative and more accurate reading which would make a nice accompaniment especially if you want to log your results automatically in an online fitness tracker.
But again, it's important to remember this is a low to medium priced machine and for the money, you're getting some great features.
One tip when using the heart rate thumb sensor monitor, make sure you take off the thin film used to protect it whilst shipping. If you don't it will not work properly and is very easy to miss in your excitement of assembling the treadmill and getting it ready to use for the first time!
How easy is it to assemble?
If you read through some of the reviews you will see everything from it being a 'piece of cake' to assemble to rants about how hard it is and needing professional installers to put together!
The reality, as usual, lies somewhere in between, but for most people will tend to be toward the 'easy' end of the scale. But its always best to do it with 2 people unless you are extremely handy.
The average time most people manage to put it together in is around the 30 to 45-minute mark and the only tool you will need that's NOT provided, is a Philips crosshead screwdriver. The instructions say you need some needlenose pliers as well but no one can figure out what for! Don't you just love flat pack goods.
In total, the treadmill comes in 5 pieces and has 15 screws to put in, so really not too bad at all.
Do Weslo treadmills fold up?
As you may have already guessed, this treadmill has a very handy space saving feature in that the base folds up into a near vertical position against the console.
This is a great design if you have limited space and are unable to leave the machine down all the time.
Please note our warning in the safety section below though about the folding feature.
What safety features does it have?
There are two safety features that make this a good treadmill to have around a family home with children. There is also one warning you need to take note of.
The first safety feature is a humble On/Off switch that is hidden from casual view. It's located near where the power cord attaches and should always be switched to the Off position if you like to leave the unit plugged in.
The second safety device is a magnetic key that must be placed into the key holder on the console. Without it, the treadmill will not even power up. This key comes with a cord and a clip so that you can attach it to your clothing. That way, should you fall or step off the treadmill it will slow to a stop by itself.
Keep this key out of reach of children and you can be safe in the knowledge it cannot be turned on by mistake.
The warning we mentioned is to do with the space saving, folding feature of the treadmill. When in the upright folded position, the base is secured with just one catch. It's very easy to unlatch this and if done by a child or someone not familiar with the machine, the base could fall on them.
If you have children, we recommend you leave the treadmill in its normal operating position and do not fold it up.
What other features does the G 5.9 have?
There are a couple of things we haven't covered elsewhere in this review and they're both quite handy features so well worth a mention.
The first is something called Comfort Cell Cushioning. There is a cushioning system on the treadmill deck that increases workout comfort and provides impact protection when running. In practice, this means that it prevents the feeling of running on a hard surface and provides the tread belt with a little give. For this level of treadmill, it's a nice feature to have.
The second feature is that the treadmill can be moved around quite easily once built. This is because it has two wheels, one on each side of the front frame at the base. Because you can fold this model up, it's quite simple to wheel it to a different place when in the upright position.
What's in the box and how long is the warranty?
In the box, you will find all the necessary parts for the treadmill (5 different bits), the 15 screws you will need, a latch assembly (to secure it when folded) and two L-shaped hex keys.
Note that you will need to keep the hex keys safe, as one of them is used to adjust the belt tension (see the manual for details on all the maintenance tasks).
The warranty on the drive motor is for 1 year, but on this model, is quite short for the treadmill itself, with just 90 days' parts and labor provided once you register the product.
There is an extended warranty available for up to 3 years that you can find details of in the user manual. It's quite a reasonable cost and covers unlimited in-home repairs with parts and labor included. It also covers you not only for manufacturing defects but wear and tear as well so we think its well worth considering.
What problems have people had with this treadmill?
Noise levels. If you want a super quiet machine then you need to double, triple and more likely quadruple the price point. If you don't mind the motor making as much noise as the average dishwasher or washing machine on full speed then you should be fine.
No automatic incline is a problem for users who want advanced features. No one wants to get off a treadmill mid flow and ramp it up. The only solution is to start your run in one of the incline positions.
Top speed is limited to 10mph. Which is linked to the smaller 2.25 hp motor. Not good for seasoned runners or those competing in sprint and high tempo athletic sports with pro level fitness goals.
Track size is short on width and length for those who like a little extra room to breathe.
There are no customizable or manual modes so you are stuck with what the machine comes with.
Check your box thoroughly if ordering online. Lots of customers have experienced packaging damage. I suspect that is more due to frenetic delivery drivers.
If you are buying from Amazon everything is covered by Prime so don't delay checking out your goods once they arrive. There is also the bonus that there is great buyer protection so you can return it no questions asked within 30 days.
Why People Are So Attracted To This Treadmill
Price- at less than $300 this machine packs in a punch. It is fairly sturdy, has a nice clean console, its collapsible and you can get up to a running pace of 10 mph. It also has basic cushioning, which makes it easier on the joints that running outdoors or on hard surfaces.
It is fairly sturdy for being so lightweight and has an almost 300 lb weight limit. One guy reviewing it on Amazon had been using it with no quibbles for 6 months at an over 300lb weight. It has a nice range of features and does a good job of providing the basic features of more advanced treadmills on a minimal budget.
If you are putting together a home gym instead of shelling out thousands you could effectively get a wider range of equipment for around $1000. Strength training is really effective when combined with cardio training.
This treadmill along with some 552 dumbbells from Bowflex (space saving and adjustable), plus a Blaze Home gym can really get you going.
Consumer Affairs independent reviews give Weslo almost a 4* rating for their entire treadmill range. Weslo only produce a few treadmills, and whilst there are negative reviews, most people buy their treadmills as they are extremely cheap, they offer a good bang for your buck. Naturally they are not packed with luxury features or cutting edge technology.
Weslo Have Also Gone Interactive With The G 5.9i
What's the main difference between the G 5.9 & g 5.9i? That little i- interactivity. The G 5.9 was made to be no frills. but no frills 10 years ago means no frills with internet connectivity today. Not many products can survive these days unless they have some way of connecting to the internet.
Getting connected has gone far beyond adding a tablet shelf to a treadmill (which of course the g 5.9i has) – the console has to directly connect to the online world so you can train along with personal trainers or join exercise classes.
Interactivity is a big thing with treadmills. Being able to hook yours up to iFit lets you log your workouts and get your own online coach to push you through your paces. If you lack motivation this can get you going. It's totally unnecessary, but if you like gadgets and stats, this Bluetooth enabled treadmill may be more ideal.
You have a 30 day free trial of iFit which gives you plenty of time to decide whether to subscribe monthly or not. It's $39 a month, and after 12 months it will soon outcost your treadmill. It's not really worth it on entry level treadmills like this. It's far more beneficial when the machine itself can be controlled by iFit, and when the treadmill has an automatic incline.
On treadmills with this feature, iFit in combination with Google maps can lower and raise the ramp during workouts. On this machine you have to manually incline yourself – which you can't do in a workout without stopping. Not ideal, and not worth paying $39 a month for.
Will the Weslo Cadence G 5.9 Treadmill be a Good Investment?
In general, once the treadmill is up and running there are very few problems reported. The warranty length is only 90 days on labor and parts so as mentioned in the warranty section, we do feel it's worth considering the extended warranty for peace of mind. You still will have gotten more value than paying for something that is twice as expensive in the first place.
This treadmill gets a bad rap from many sites that tend to promote higher end treadmills. Even the Treadmill Doctor are unforgiving of it due to its short warranty. But to be honest i have bought plenty of used cars over the years with a 3 month warranty.
This is at least new. Treadmill Doctor also have no quibbles selling parts for this treadmill online. So go figure.
Almost half of the owners who have bought this treadmill online have given it full review marks.
The Weslo Cadence G 5.9 Treadmill has been one of the best budget selling treadmills online and for good reason.
Robust construction, useful features and a space saving design are all plus points you should look for and they usually start at twice what this treadmill is selling for.
It may not have some of the top end features that more expensive treadmills have, but then at a price around 90% lower than these in some cases, you might decide you don't want them anyway!
It's an idea to check your stride pattern is ok for the Cadence but in general, this treadmill is great for women, children (under adult supervision of course) and most men up to around 6 foot tall.
If you're an accomplished or hardcore runner, then it may not have everything you need but for beginner to intermediate runners, it will do just fine.
You might also want to buy a mat to go underneath to protect your floor, especially if it's wood flooring from lubricant spills and scrapes. Or if you want you can recycle the box as a mat.
The belt comes pre-lubricated so you should not need to buy any additional lubricant at first, but make sure you check the user manual for lots of maintenance tips to keep your treadmill running well.
Hopefully, you've found this review useful and that it provides enough information to make an informed decision on whether to buy this model or not.
You can also check to see if you qualify for an Amazon store card where you can usually purchase this treadmill with monthly 0% interest payments.
Build Some Solid Muscle With These
Bowflex adjustable 552 Dumbbells – compact and saves you buying a complete set
Bowflex Blaze Home Gym – patented resistance rod technology
Bowflex Ultimate 2 Home Gym – find out if this "older" gym still cuts it
Muscle University