FlashSale – Bowflex currently have a sale across a range of stock. Check stock levels here.
Don't overlook the Bowflex Blaze if you are reviewing home gyms. Stick around as we put it through its paces to see what all the fuss is about. Find out what body parts this machine is good for and what boxes it ticks.
Blaze Review In Brief – 12 Reasons To Own Yours
Great home gym if you don't want to be a 300 lb+ mass monster bodybuilder
Uses resistance rods instead of weight plates – good if training in 30s + 40+ as very kind on body
Light & compact also folds- great spacing saving gym
Can build and tone some serious muscle on this
Can upgrade to add more resistance if you outgrow it
Combines cardio and ab training with muscle building
Has 45° incline bench – for working upper pecs, incline ab training
Can change angle of pulleys to suit your frame or isolate muscles
Full Body workout
20 min instructional dvd included
Can perform multiple leg exercises – leg extension, ham curls, squat, deadlift
Lots of positive reviews online
This gym is perfect for beginner to medium lifters. It is great for former heavy lifters who want to cut back on the poundages and have a gym that is less aggressive on the joints. I'm now in my 40s and this gym is perfect for me as i like to put more emphasis on the negative portion of the rep to make my muscles work harder.
I like to feel the weight all the way through the rep range. For anyone in a similar position on negative eccentric training – the Blaze has this kind of resistance. But there is also another benefit, this exact same resistance is also incorporated into the concentric portion of the rep. Double benefits.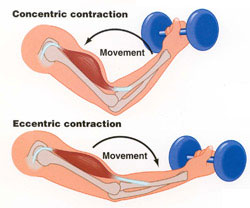 *Research shows that putting more emphasis on controlling the eccentric portion of the rep leads to incresed gains in hypertrophy. In short if you want to develop more muscle in less time control the negative portion of the rep and don't let the weight fall down. Create your own resistance by resisting gravity- or use a machine like the Blaze that already does this.
*Research Study https://www.ncbi.nlm.nih.gov/pubmed/17326698
Bowflex- Who They?
The name Bowflex is instantly recognizable by home gymers. If you want to create a gym at home not many companies offer the same quality and affordability. They have a range of home gyms available for beginners to advanced users.
They are part of the megatronic brand porfolio that includes Nautilus, Universal, Schwinn & Octane Fitness. True heavyweight giants in the gym equipment arena. Nautilus are considered as the founders of the home gym, Bowflex as the innovators- with precision engineering and scientific breakthroughs.
For instance they have developed a machine based on the principles of Hybrid Velocity Training (HVT) that syncs to a workout app, the machine is based around sprints circuits and strength training and can deliver a complete cardio workout in 18 minutes. The benefits of these intense short burst style workouts are well documented in our hiit article here.
They have a series of Max Trainers reviewed here that combine the high power output of a traditional stair stepper, with the smooth low impact feel of an elliptical.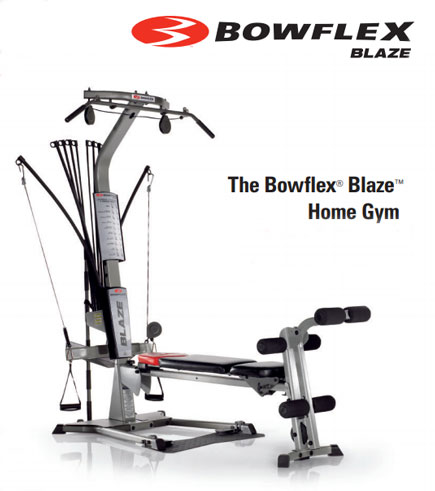 On the Blaze you can perform over 60 exercises. It gives a total body workout which includes squats, leg press and bench press. As a added bonus you can really work your cardio with rowing, which is one tough aerobic exercise.
It also doesn't take up a lot of room and weighs ony 195 lb (88kg). Which is nothing for a home gym. BUT it still allows you to lift some serious weight, without the added bulk.
HOW? With rod resistance technology. Instead of a weight stack it incorporates "Power Rods"- invented by Bowflex of course. Power rods simulate free weights. But not like pulley machines. They have no weight plates attached to them. They are calibrated to create tension. This makes this home gym lighter than a traditional gym.
Just like the magnetic resistance found on high level elliptical machines– rod resistance is smooth. The resistance stays with you the entire rep- this is the true definition of time under tension – which is the ultimate pinnacle in bodybuilding routines.
Continuous tension throughout the entire rep range means your muscles are under constant pressure. This can only be mimicked in free weights or machines with weight stacks by going slower on the negative- the eccentric portion of the rep.
In the case of a bicep curl to create more tension you would raise the weight as normal for 2 secs and lower it over 4- resisting gravity.
But this cannot be accurately measured with free weights, there will always be some range of cheating involved that counteracts your resistance. That's the difference between cables and free weights, BUT you cannot do a lot of compound exercises (squat, bench press and shoulder press) with cables.
But you can with power rods. Bowflex though have actually taken this a step forward by actually increasing the slope of resistance to get harder once you activate the rod system. So it gets tougher as the rep goes on.
Ben Pakulski, former Mr Olympia bodybuilder, who I am a big fan of, talks about activating the muscle throughout the entire rep range so it is doing all the work. He would certainly love this system. Because it allows you to build muscle more effectively, and in the shortest time possible.
Brief Summary of Bowflex Blazes Good Points
Workout variety – can perform over 65 exercises (even more are revealed further on!)
Total Body Workout – no body part is left out
Total Gym – can do cardio with rowing- one of the first home gyms to incorporate cardio
Uses rod resistance- "different" to weight plates and actually has lots of benefits (continuous tension/safety)
Resistance rated at 210 pounds- good for beginners- to intermediaries – can be upgraded to 310 and 410 pounds
Folds to reduce have it's footprint by 50% – great for small places or temp in-house/garage gyms where you need to store other "stuff"
Weight changes are very fast
Resistance is smooth and kind to joints and tendons
Squats on a Bowflex Blaze home gym
So why go to the gym when you can take the gym home with you?
How Much Space Does The Blaze Take Up?
The Blaze measures 90 inches (L) by 38″ inches (W) by x 83 inches (H) (229 cm by 97 cm by 211 cm). The rods bend outwards during use so allow at least another 40 inches to the width when measuring your room.
Bowflex recommend you need 100″ L x 78″ W (254 cm L x 198 cm W) for your workout area.
It also folds down to 52 inches (L) by 38 inches (W) by 83 inches (H). It is quite compact for the range of exercises it offers. Get the tape measure out in your garage or basement and you'll likely have ample room. You could even fit a treadmill and an elliptical beside it in a single car garage.
Bowflex like taking an original idea and putting their unique spin on it. They like downsizing equipment so it fits into your home environment. They have done this with their selecttech 552 adjustable dumbbells, where they take the concept of having multiple dumbbell weights and combining it into one unit.
Getting back to the Blaze, not everyone has the time nor desire to constantly rack and unrack weight plates. Resistance rods are quicker to change than offloading plates. Great for drop sets where quick changes are necessary. They won't mark your floor neither – or crunch your toes and fingers.
How Many Power Rods Do Bowflex Provide With The Blaze
The standard Blaze comes with 210 lb of resistance (95 kg). That consists of:
2 x 5 lb rods
4 x 10 lb rods
2 x 30 lb rods
2 x 50 lb rods
The 310 lb (140kg) Upgrade adds
2 x 50 lb rods
The 410 lb (186) Upgrade adds
4 x 50 lb rods
How Do You Adjust The Weight
The cables have a hook on each end just like on a standard cable machine found in a gym. The power rods sit on stacks at the back of the machine. You pull the rod towards the cable and hook the cable through the end cap on the power rod. Put the heaviest rod on first, then the rest in descending order.
This stops the cables crossing over and jarring which can damage them and restrict motion during your reps. For example if you need 140 lb of resistance, first hook up 2 x 50 lb rods, then the 30lb rod, and finally a 10 lb rod.
Can You Trust What Bowflex Says That Power Rods Are The Same If Not Better Than Traditional Weights?
If you are sitting on the fence over the Bowflex claims that you can overload your muscles in a safer and more effective way cast your eyes on this video. It shows the resistance of a power rod being measured. Just like Bowflex state, the resistance does progressively get harder the further you go into the rep.
The video below also shows that free weights do not provide constant resistance.
The upshot is resistance from either is equally effective, if not somewhat different.
What Are Resistance Rods?
Bowflex uses resistance rods in all it's home gyms. But what exactly are resistance rods? Resistance rods- termed "power rods" by Bowflex were invented by them. They are a flexible composite compound (poly hexamethylene adipamide), calibrated to create a specific load of tension, very like a fishing rod in appearence (except thicker) in that they bend.
Each rod is rated (see amount on the cap) to represent it's equivalent unit in pounds. One of the advantages is that you can get the equivalent of a 100 lbs of iron with a few rods that weighs only a few pounds.
Benefits Of Owning A Bowflex Blaze Home Gym
It's compact and light weighing just under 200 lbs
Offers a full body workout
Plenty of workout variety thanks to 65+ exercises, with a bit of ingenuity and creative thinking it's more like 80
Has an accompanying workout manual so you'll never be lost for ideas
Rod resistance is extremely fluid and forgiving on the joints.
Can upgrade cheaply and add more rod resistance (310 lb 0r 410 lb ) once you get stronger – less than $100
Good for entry and mid level athletes (advanced level athletes who lift heavy will need to upgrade resistance)
Includes a rowing machine so you can work on cardio
Sliding seat allows you to perform leg presses
Has an instructional worksheet to hang on machine
Has a lat pulldown bar
Can target hamstrings via lying leg curls
Can adjust angle of pulleys to so you can customize workouts and target specific muscle groups
Can replace gym membership with total body workout and cardio built in
Folds to about half its length -from 90 inches to 52 inches
Noise level is kept to a minimum as the rods are smooth and no weight plates will clang
5 year warranty on machine + lifetime warranty on power rods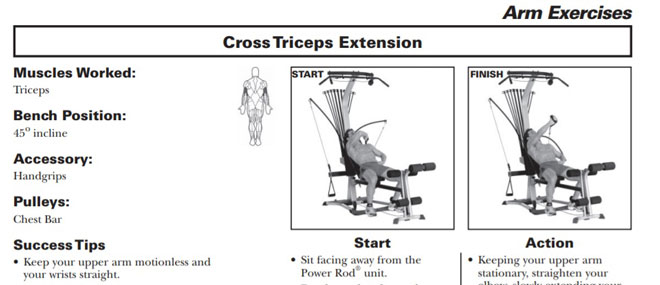 Get More From Your Blaze
The exercises that come in the manual focus mainly on the basics. You can do so much more with the lower pulleys with a little creative thinking.
Of course Bowflex don't want to tell you that and want you to pay for the next machine up the Xtreme 2 SE or either the Xceed or Revolution (approx $3k) Home Gym.
You can add a tricep rope, an ez curl bar, plus an abdominal pad to increase the range of exercises. This is definitely not a beginner home gym. If used correctly it can work for beginner to advanced level athletes.
Make sure to add these extra exercises not included in the manual into your workouts
military press (shoulders)
deadlifts- stiff legged and bent legged
reverse pull downs (using lat bar Dorian Yates stylee)
rope reverse tricep pull downs
ez barbell curls (biceps – for something different try squat straps or add a chain with an ez curl bar)
Blaze In All It's Glory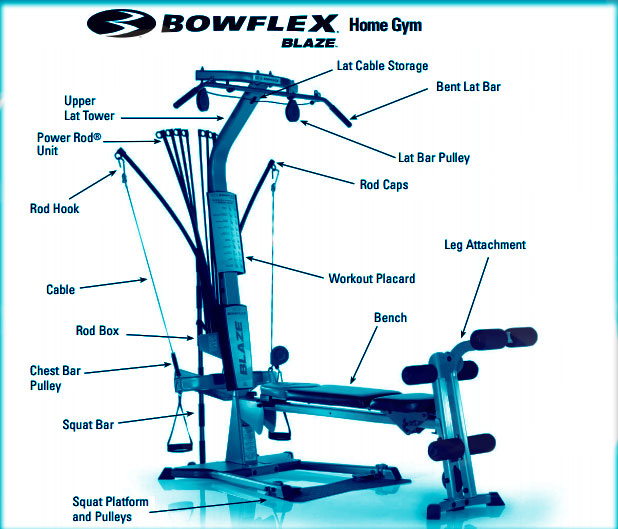 Criticisms of Rod Resistance
Anyone who has ever used rod resistance says that if you compare poundage values on Bowflex systems to free weights they are not the same. With 100 lb rods not equaling to 100 lb of free weight. Bowflex owners will argue it makes no difference- just add more resistance rods to get to the point where the weight is challenging.
Your muscles don't actually know they are lifting X lbs of weight. They will lift what you give to them if they are strong enough. That is what progressive overload is all about. Adding more weight and more reps increases your muscle gains- but your body only equates that 500 lb squat number as another load it has to deal with.
Besides rod resistance works in the eccentric and concentric (positive and negative) portions of the rep. Research shows that most muscle is build in the negative portion of the rep. Something which is overlooked by most gym goers.
If you are fairly strong i would recommend going for at least the 310 lb resistance upgrade. Unless you want to compensate by adding more reps. For versatility and workout variety I would choose the upgrade.
Most owners of the Blaze agree that the rods lose resistance over the years, they need to be replaced or added to. With new rods being so cheap that shouldn't be a problem. You'll pay less than $100 for a hundred lbs of rod resistance. A few 10 lb rods after a year or 2 won't break the bank.
Time To Pay Up Or Move On
Bowflex could have made another home gym using weight stacks. Indeed they also could have made a gym without a rowing pulley. But that's what makes them different – and good. Everything is top notch in the design and sturdiness compartments.

They have pedigree. As they also own Nautilus, and Universal, these bodybuilding and fitness megaliths ensure the best design and tried and tested scientific standards are incorporated into the Blaze.
Anyone who wants to get in shape in the fastest possible time will benefit from this. It suits men and women, whether your goal is to bulk up, or tone up the Blaze has it all. Serious contenders who like to lift super heavy should pass it on, but even with the 410 lb upgrade you'll struggle with perfect exercise execution on each rep.
It's not for powerlifters who need a lot of plates on the floor at the correct competition height. You won't get the same feel during dead lifts and squats on this if you compete and need to get contest prepped. If you like pushing over 1000 lbs on the leg press this gym is not ideal or robust enough to match your needs.
If you need an accurate measurement of your weights in numerical standard form move on. You won't be able to tell accurately if your bench press is 100kg this week for 8 reps. For anyone who needs real stats for their own satisfaction, and for competition, no conversion chart will ever give you a true accurate figure.
For that you need real iron. Something like a Marcy Smith Cage style gym – although you'll have to provide your own plates. just don't go buying olympic weight plates online- too expensive for s&h.
If you like a little more versatility in your home gym- like adding dumb bells or preacher curl benches, and just an overall versatility in the difference between weight adjustments, then this total gym is also not ideal. You need to either stick to your local gym, or add some extra equipment in.
So who is this gym really for? For those who have trained hard and heavy for years and now want to maintain their size and not cause any more stress on the bones. For those who like a cardio burn out with rowing you have the added benefit of this.
If you have had previous surgery, scar tissue or old war wounds from torn rotator cuffs, biceps or pecs, this machine is a safer alternative to traditional cable machines and weights.
And not forgetting noise levels, this machine is very sturdy, it does not squeak or rattle profusively due to it's gym quality build. The cables in gyms can be noisy as they are hauling weight plates. They warp and fray over time. These resistance rods are so much quieter than weight stacked machines. The only thing making excessive noise will be you during an intense workout.
If you want a total gym without adding extra equipment and you are not obsessive with having every possible piece of gym equipment known to man, this is ideal.
This machine is for those who like to get maximum contractions in each rep, for those who like knowing the rep is getting harder as it progresses. For those short on time who want to squeeze every last ounce of energy out of the muscle on the eccentric phase (negative).
If this is you, you're on to a winner.