No one is going to spend over 3K on a treadmill, right? Wrong. Like its name says the 3G Cardio is an elite runners treadmill. They say its for marathon runners. But what's with the name 3G Cardio, are they trying to be a cell phone or tech company?
Let's start in reverse and begin with the warranty instead of delving into the features. There is a mammoth 10 year parts warranty, practically unheard of in the treadmill industry.
Labor is 2 years which is on a par with other high end treadmills. Sounds good doesn't it? Yes and No. With the NordicTrack Commercial 2950 which is another high spec treadmill, it has a longer and more detailed warranty.
You get lifetime on the frame, deck and motor, plus 5 years on the rest of the parts, and 5 years on the electronics. It has the same 2 year labor warranty. The big difference is it is way cheaper and has a 22″ touchscreen monitor. So it's beaten heavily in these departments.
So why should anyone invest in the 3G cardio elite runner if there are alternative lower priced options? Well let's look what it's got under the hood. It has a 4.0 hp motor which is powerful, yet fairly standard for top spec elite treadmills.
This club rated machine weighs a hefty 386 pounds and can easily handle anyone who weighs up to 400 pounds. But what sets this machine apart is the running feel provided by the thick orthopedic belt and the "Ortho Flex" Shock absorption suspension system, which provides comfort to the joints and smooths out any bumps.
There is plenty of comfort and room on the deck (which uses 4-ply belt for smoothness and longevity) which measures an extremely spacious 22 x 62 inches. This treadmill as expected at this price has automatic incline ramp which can be operated via the console which raises up to 15%.
If you are doing interval training you may want to know that the machine can accelerate 1mph every 1.5 seconds. Going from 0 to 15mph will take just over 20 seconds to reach the top setting. That is responsive. Ideal for interval workouts. Thankfully it has a multi-speed fan to keep you cool.
This treadmill cannot be folded so you want to set it up somewhere you have good access to. The benefits of non folding treadmills are they are quieter and more sturdy than folding treadmills, which are slightly compromised by the hinge mechanism.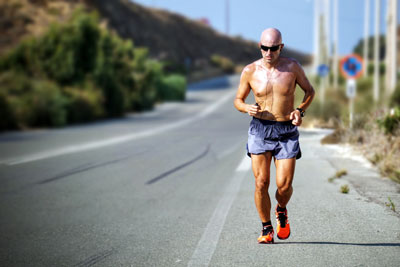 Owners perhaps would not have been reporting how smooth and quiet this machine is if it was able to fold. Commercial grade treadmills like this should not be able to fold, and naturally the footprint will be larger than a standard bare bones treadmill.
The console is clean and shows your target heart zone, which can be activated wirelessly or by using the hand grips. It does not have a lot of preset programs, but the design according to 3G Cardio was set this way as to not overwhelm you.
It does have a handy fitness test program which could shame a few of us, and a port for your tablet or smartphone to play music through the surround sound speakers. The entertainment feature are severely lacking- there are none apart from the audio port.
If you like loads of distractions when you are working out you will have to bring your own. This machine exists purely for the joy of running and fitness.
3G Cardio Treadmill Dimensions
84 in L x 35.5 in W x 58 in H
Weighs 386 pounds- max user weigh is 400 pounds
3G Customer Service Is Top Notch
The customer service 3G offer are top notch, and they don't farm it out to overseas third world continents. One buyer had a problem 2 and a half years after their purchase, and they only got through to voicemail as it was Christmas.
To their surprise they got a call back the next day and parts were quickly sent and a trouble shoot on the phone fixed the issue.
Other online customers also reported the customer service is excellent, and 3G are particularly good at following up with customer support issues.
3G have been in the fitness industry for over 50 years and they have obviously learned thatg putting the customer first is the right way to do business.
Improvements Needed
Only 8 built in workouts and 2 customizable routines to choose from. A bit more preprogrammed variety would be nice.
More power. A few more horsepower could set this treadmill apart from other high in models.
Has a top speed of 12mph, some treadmills have 15mph and are much cheaper.
Lacks console integration with iFit, and the audio features (built in speakers) are also basic. No entertainment features, just pure workout machine. Good or bad depending on your view.
Why Should Anyone Buy This?
Running belt is massive – 22 x 62 in. You will not get claustrophobic working out on this as you sweat through a 15% interval climb.
Designed for marathon runners, so longevity is practically ensured.
Machine is commercial grade like you would find at a health club or commercial gym. It's built with high grade materials, and is built to last. It's heavy, solid and has a great warranty (drive, motor and frame = lifetime).
4-ply running belt – works in harmony with ortho flex shock absorption suspension to provide comfort and ensures years of running without breakdowns.
The motor is embedded low into front of machine so it won't get accidentally damaged by anyone running on treadmill. The motor is lifeblood of machine.
The fast acceleration pace makes this the interval runners machine of choice. No waiting around for the machine to come up to par, the 1 touch speed settings will leave you gasping for air as it kicks in like a Porsche.
If you like a pure running experience that is easy on the joints, combined with an excellent responsive time for interval training, this is a fitness purists friend.
For those who like iFit integration, and even a console there are cheaper treadmills in the luxury end of the treadmill like the NordicTrack Commercial 2950 that provide just as good an experience.